Jaguar F-TYPE, E-TYPE, I-PACE or trusty Ford S-Max?
Which would you choose? Roger Lightfoot took each for a test drive recently and this is what he thinks of them.
I have yearned to own a Jaguar since I worked at the Coventry Jaguar factory as a graduate in the 80's. Might I be tempted to finally abandon my trusty diesel S-Max?!
I was incredibly fortunate to be sponsored by Jaguar Cars whilst studying Mechanical Engineering at Loughborough University from 1982 to 1986.
Some of my happiest memories are from my time working on the factory floor at Radford, Castle Bromwich (where they built Spitfire in WW2) and Browns Lane. I worked mainly within the noise, vibration and handling (NVH) development team and this involved some exciting times in prototype cars at the proving grounds at Gayden and Mira.
I've wanted to own a Jaguar ever since I left the Browns Lane factory for the last time in 1986.
But I'm a practical chap with three kids. We've spent the last 20 years driving all over Europe with the boot full of skis, golf clubs and suitcases. The Ford S-Max swallows up the luggage and miles in equal measure. It's a superb family car.
But with all three children having flown the nest I'll have a little more freedom when it comes to choosing my next car. I, therefore, jumped at the chance when Barretts Jaguar kindly offered to lend me a Jaguar I-PACE and a Jaguar F-PACE for a couple of weekends.
By chance, I borrowed the F-PACE on the same weekend of our Summer Classic Car Auction and one of the star lots was this gorgeous Jaguar E-TYPE.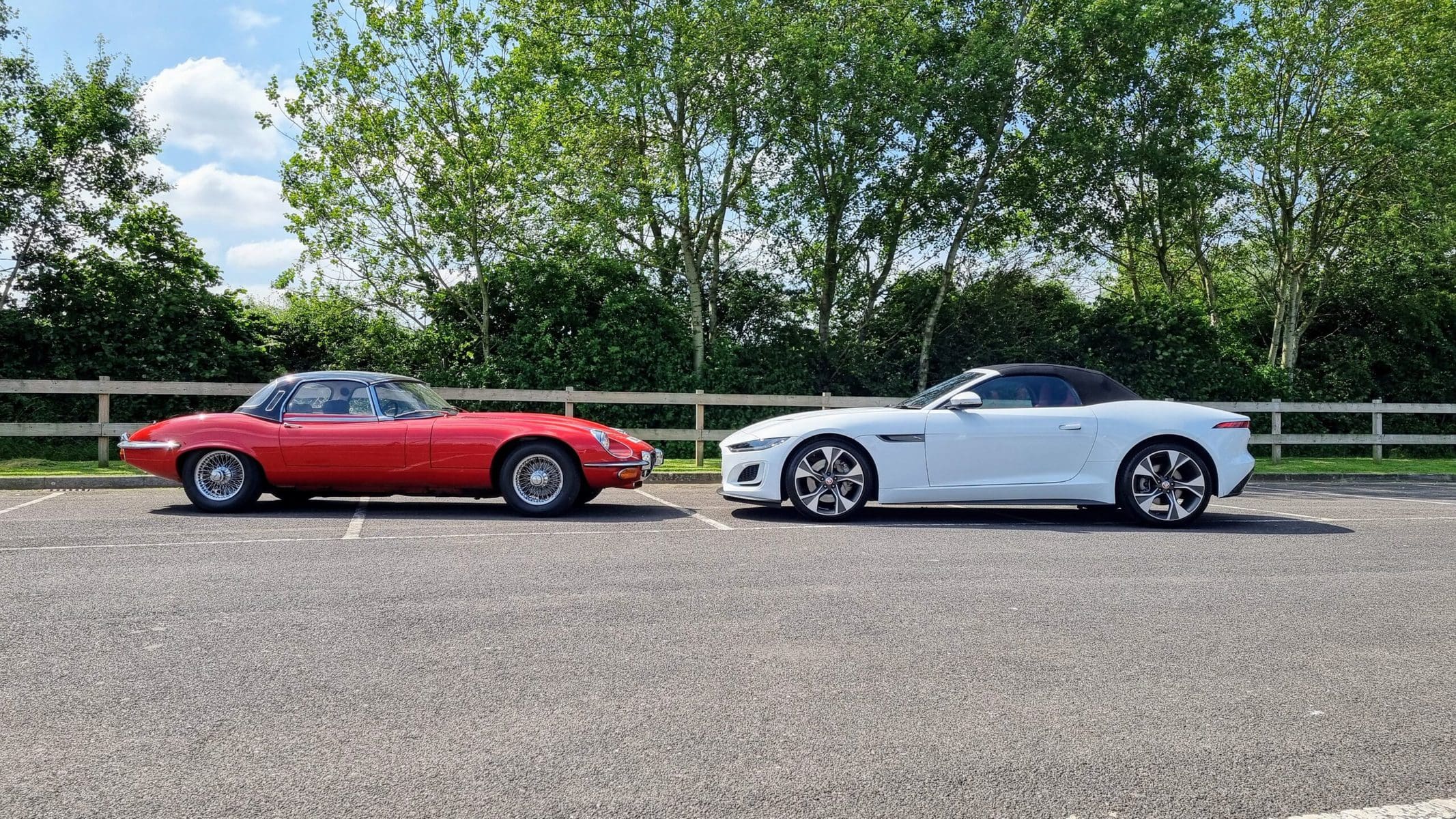 Production of the E-TYPE ended in 1975. When I joined Jaguar Cars the F-TYPE was already being planned. I can recall being shown around the top-secret design studio. Three talented designers were painstakingly hand-carving a life-sized model of a new prototype F-TYPE in clay. It was stunning.
That was in 1983. It would be 30 years before the F-TYPE finally rolled off the production lines in 2013.
So, what did I make of the F-TYPE?
I drove the Jaguar F-Type P300 Convertible with a 2.0 L turbocharged inline-4 engine rated at 296 hp in white with red leather interior. Red leather might sound a bit 'loud' but the tone was somewhat understated and looks great with the top down basking in the summer sunshine.
The F-TYPE is a gorgeous looking car. Everyone I spoke with was of the same opinion. The designers have managed to combine classic Jaguar styling with a very modern purposeful look without being 'flash'.
This car will no doubt turn a few heads but for the right reasons. It is a very smart design. I love it.
The engineers have been equally successful. This is a fabulous car to drive. At low speeds, the ride is comfortable with very little of the harshness that plagues many performance cars.
And at higher speeds, it just feels like it is on rails. I was not brave enough to push Barretts' demonstrator to the limit. You'd have to drive so fast to test the road holding; speeds which would not be safe on our roads. Nor did I want to call out their rescue truck! But I'd love to put it to the test on the track. It felt brilliant to me.
It was only when I returned the F-TYPE that they told me it was the 'baby' P300. But this car is still very quick, the drivetrain delivers bundles of power very smoothly. It's a great drive.
It goes without saying that I'm not getting my golf clubs in the F-TYPE. But that's not the point of this car. The interior is pretty much spot on. I loved the driving position and all the controls were well executed. I felt like I was cocooned in a cockpit rather than in the interior of a typical car.
The automatic folding roof is very clever too and I was surprised how well the wind was controlled at speed. It was quite a treat to drive this over to my son's house at Canterbury on a sunny Sunday with the roof down.
The F-TYPE is a great car. I'd love one.
How did the F-TYPE compare to the E-Type?
The E-TYPE is a classic classic – there is little doubt in that. The lines are classic and the model we were selling was fitted with the V12 engine – another classic!
In Hobbs Parker red, this car would look just fantastic on my drive. But what would it be like to own and drive?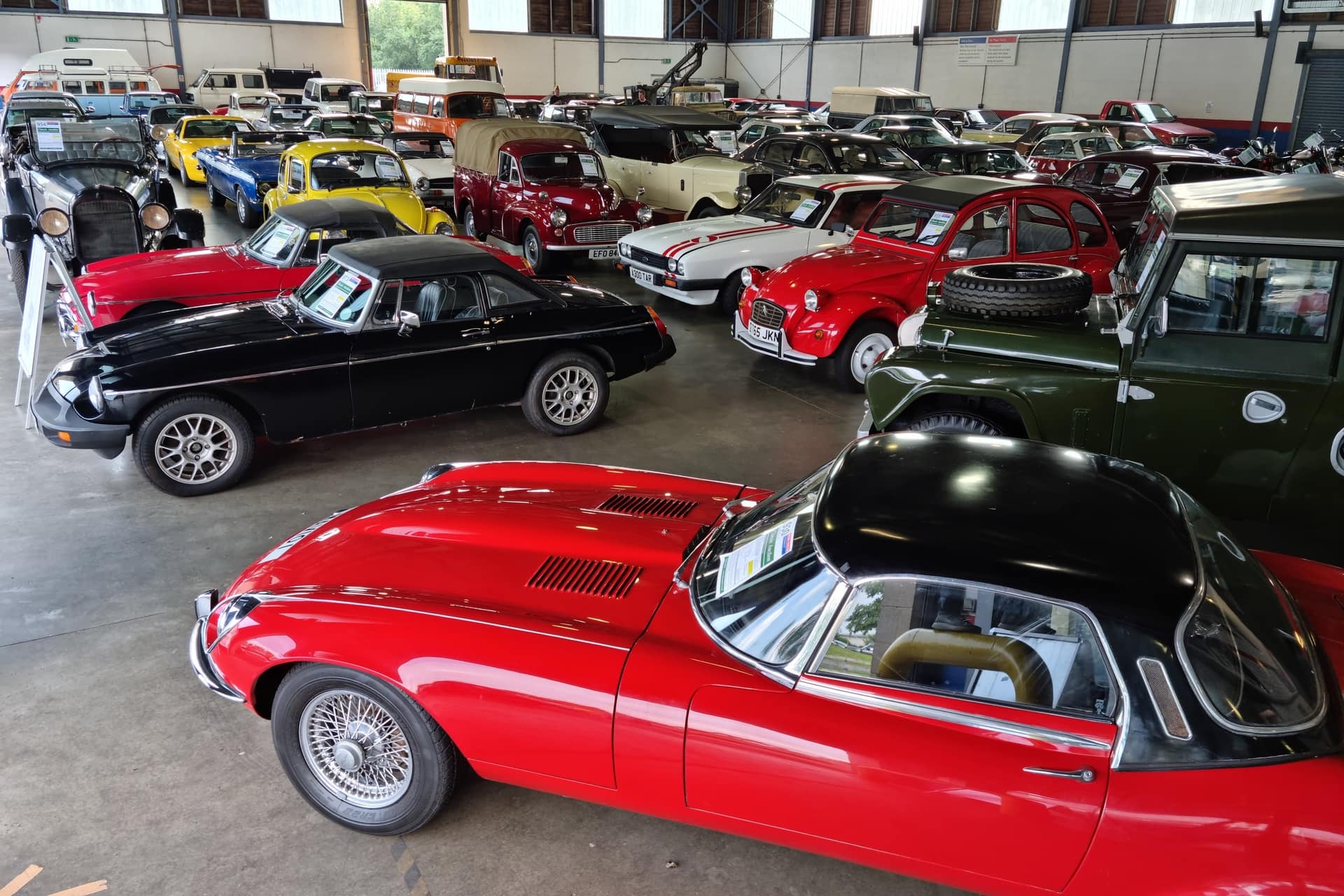 Obviously, like the F-TYPE I won't be taking this to the golf course either.
I only drove this a few hundred metres around our auction site so I could take some marketing photos and my overriding sense was that this car made me feel alive – nervous even.
I was aware that I was driving something very precious and expensive for that matter. This was special.
Whilst the engine and gearbox were fine, I was shocked at how appalling the brakes and steering are for what was one of the finest sports cars of its time. By comparison with any modern car, this felt dangerous.
But that's not to say I wouldn't like one. I would. I'd just drive it very carefully.
Moving into the 21st Century and the all-electric Jaguar I-PACE
In the late '90s, my father owned a very early Toyota Prius. In truth, it was a 'bit rubbish'.
Note: Jon Chapman (MD of Hobbs Parker Car Auctions) tells me that the modern Prius is a very good car with exceptional reliability and in strong demand at auction.
Obviously, things have moved on and unless hydrogen cells have their way electric cars are the future. Many manufacturers, including Volkswagen, have gone all-in and confirmed they will stop producing petrol and diesel cars in the next decade or so.
I've been wondering about making the switch to an electric to do my bit for the environment, save a few pennies on fuel costs and avoid the pain of weekly visits to fill up. How I hate that on a wet and windy winter's night.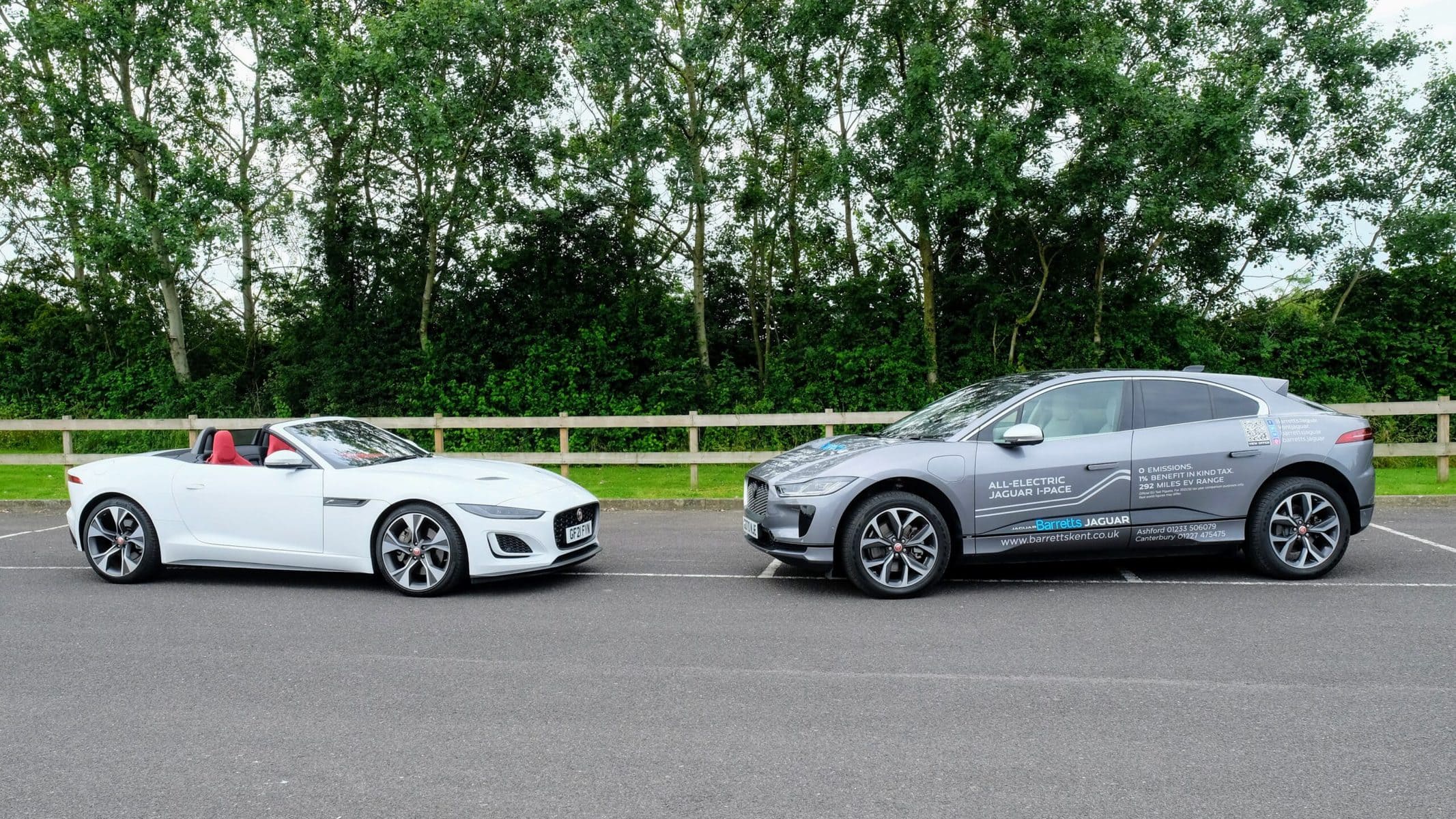 When Barretts delivered the I-PACE to our auction site I was expecting to have to listen to many minutes of detailed instructions. Not so, 'just press the start button, select drive or reverse and you're ready to go'. Over the next couple of days, I really began to appreciate the simplicity of driving the I-PACE.
I pressed drive, squeezed the accelerator and I was off. No noise at all. It was surreal.
Having spent a little while becoming accustomed to the clever regenerative braking system I pushed on a little.
The maximum torque and power, which I noted at around 350KW on the dashboard or almost 400 HP in old money according to the specs, delivered astonishing performance. Fast and smooth. The acceleration to 60 mph is so quick it shocked a passenger or two. Especially one of my life-long friends who was still wearing her dressing gown when I offered her a quick go at 8 am on Saturday as I passed by her house. She screamed!
The road-holding is fantastic too. Like the F-TYPE, I did not push it but it too felt like it was on rails. The four-wheel-drive provides an extra level of confidence which I especially liked. The ride quality is great – the lumps and bumps on the lanes to Woodchurch are damped very effectively and the car eats up the miles on the M20 with very little noise or fuss.
Although there's nothing very remarkable about the external styling, the Jaguar notes are still present and this is a good looking car without being overtly flash or space-age. It looks very purposeful and I like it.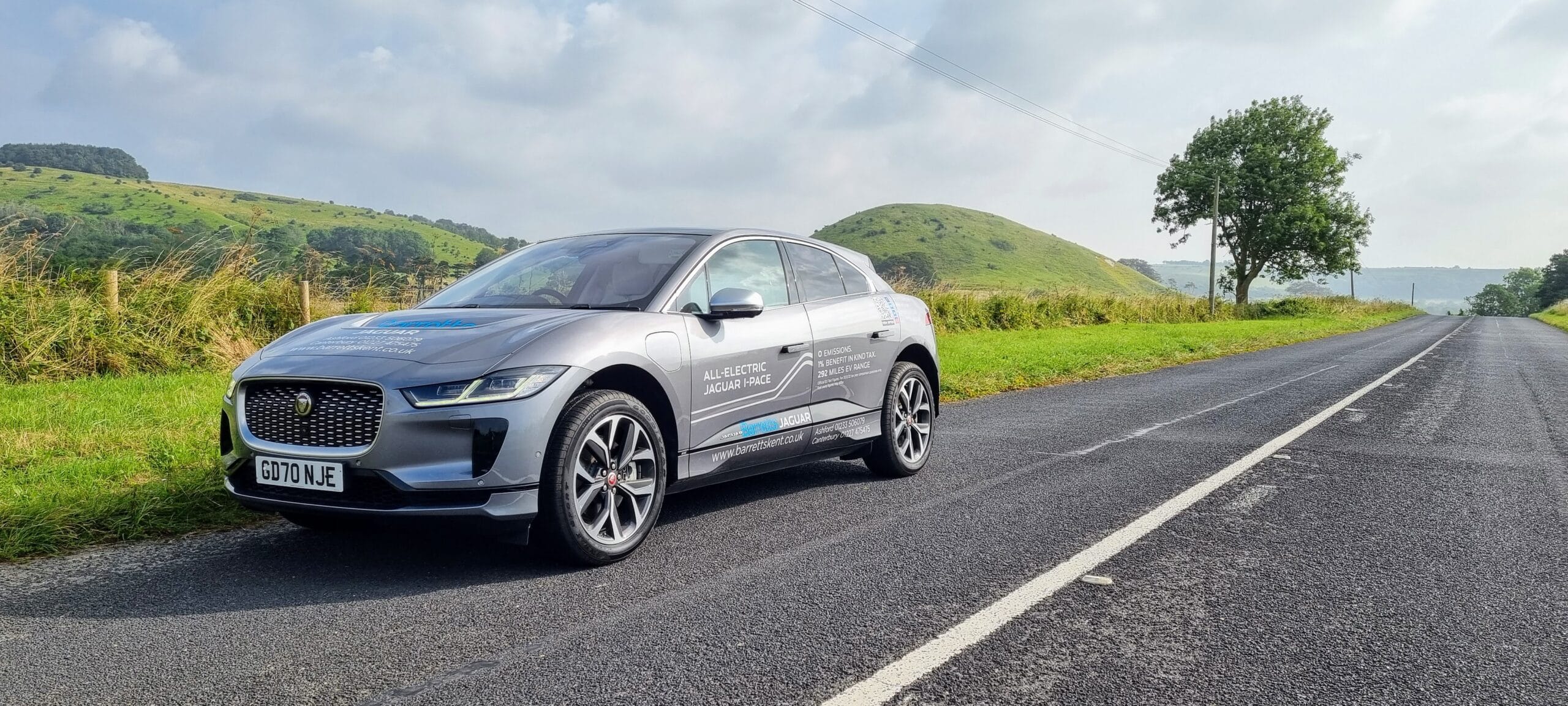 The interior of the I-PACE is luxurious and very comfortable. In particular, I thought that the various integrated display screens on the dash looked fabulous in a very understated Jaguar way. And I managed to squeeze two sets of golf clubs in too!
In summary, the I-PACE is the most accomplished car that I have ever driven.
Will I give up my trusty Ford S-Max?
In all honestly, I'm unlikely to ever own an F-TYPE; or E-TYPE for that matter. As much as I love them both, they are just not practical enough for me and so they would only work as a third car and I'm not going to get away with that.
The I-PACE, on the other hand, is a completely different matter. And in many ways, I wish I'd never driven it.
When the time came to hand the keys back to Barretts, I jumped into my 20-plate Ford S-Max Titanium – this is a good car – leather, lots of bells and whistles – I've owned several over the last 10 years or so and they have been great.
But!
When I drove out of our auction site in the S-Max to go home that evening it felt like I had gone back to the industrial revolution.
The I-PACE is so much better in every way. It feels so 'now' and I want one.
I won't be changing my car for a couple of years and when the time comes the I-PACE will be on my shortlist. It's a brilliant car.
If you'd like to try one for yourself give the nice people at Barretts a call on 01233 506080. Tell them Roger Lightfoot says the I-PACE is amazing and recommended you test drive one. They'll be pleased to help.