How I nearly made a pig's ear of selling my own house
In this illuminating article, Bill Lightfoot, former MD of our Estate Agency, bares all and admits the errors he made that nearly cost him the sale of his own house.
For someone that thinks he knows best about most things, taking advice is a skill I'm still working on!
Have you ever asked for advice and then ignored it?
I guess we all have.
Hobbs Parker was founded by my great-great-great-grandfather in 1850. My Dad worked here for 42 years and I've been working here for the last 25 years.  For 15 years I was MD of our Estate Agency. I stopped doing that a few years ago and handed the reigns over to Alex Davies, whilst I concentrated on the world of development consultancy.
Good job I did too because Alex has turned a good estate agency into an outstanding one.
Very interesting Bill, but do you have a point?
Well yes. You would think with all that experience in selling property that I would, of all people, been wise enough to listen to good professional advice. But it turns out when it's your own money at stake it's so very tempting to ignore what others are telling you.
So, I thought I would share my mistakes with you and tell you how those who knew better than me, helped save the day!
Earlier this year I decided to sell a house I had been letting. It had become vacant and I have three grown-up kids who could do with a helping hand to get going. So, with the market looking good I thought it was about time to sell.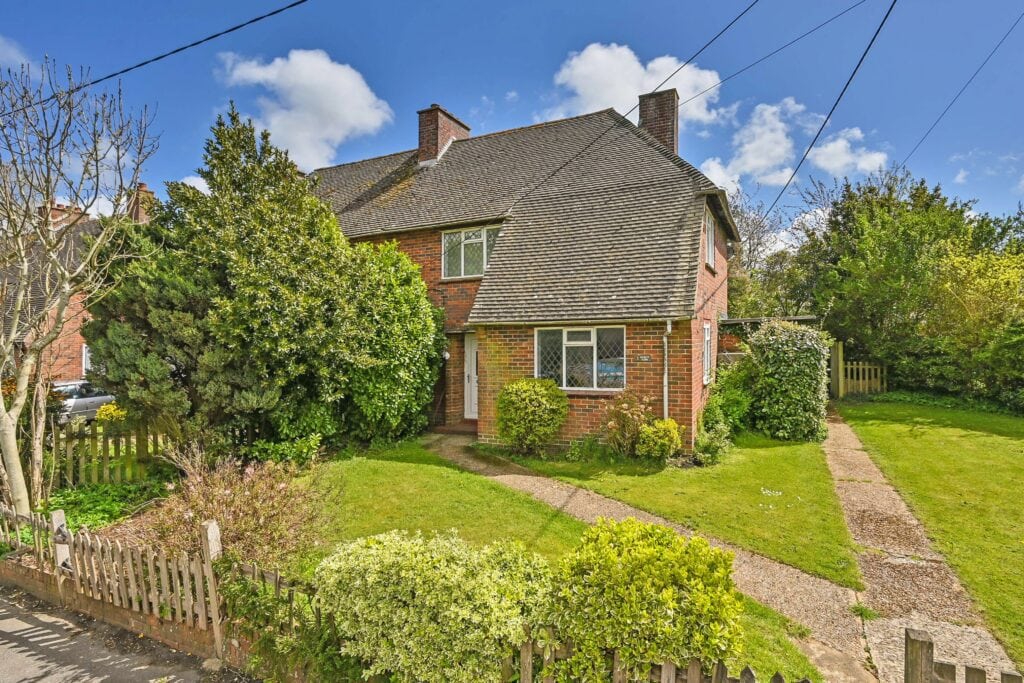 I naturally asked Sarah Holgate here at Hobbs Parker to help me. Sarah is very experienced and has been selling houses in the villages around Ashford for years. We met at the house. A three-bedroom semi-detached house in Hastingleigh.
Sarah had a good look around and with clear evidence of what else had sold nearby and at what price, we stood in the sunshine in the garden and she told me that she thought it was worth around £375,000.
Well, I persuaded Sarah we should try it at £395,000. I could tell she was looking at me thinking for years I had been banging on about how overpricing the house at the start of the marketing is the worst thing you can do. But this was my money, and strangely I wasn't taking Sarah's expert advice. Even stranger I wasn't even taking my own advice. What was I thinking! About the money I guess.
You see marketing a house is a bit like fishing. When you first put your house on the market it is like fishing in a pond that has been well stocked with hungry fish. If you have the right bait on your hook you are likely to catch a fish quite quickly. But if you use the wrong bait, in this case, a house that is unrealistically overvalued, then the fish might have a look, but they don't take the bait.
This is, of course, exactly what happened to me.
Sarah had done a great job of preparing the sales particulars and they looked splendid. Viewings were being booked thick and fast, but nobody was biting. They came, they looked and they swam away.
Now, this is where my mistake was potentially going to cause me a bit of strife. Because after three weeks and no takers I am now fishing in a river, waiting for a new fish to swim by and notice my worm. Much more tricky, as any angler will testify. Fortunately, Sarah was on the ball and knowing all along this was going to happen, calmly pointed out my "understandable" mistake one afternoon and we agreed to drop the price to where it should have been in the first place at £375,000.
Now in a market that was less strong, this could have put me on the back foot for some time. Modern property portals are only too happy to highlight price reductions and can put people off.
But as luck would have it, the market at the time (Summer 2021) was hot enough that when we sent it back out at the right price I soon had interest again and Sarah was able to find a good buyer.
Although I nearly messed that up too.
The day I got a full asking price offer from the buyers, I had also had a request for a viewing a couple of days later from someone else. Well, I thought, what if they want to buy it too? I might be able to sell it for a higher price. This time it was Sam Clarke who sorted me out.
Sam has been negotiating sales for years, thousands of them! She quite rightly pointed out that by being a bit greedy I might lose both buyers. I knew this. I had told many people the same thing on many occasions. And Sam does not mince her words. We agreed to sell there and then.
The sale agreed board went up and we instructed the solicitors. I got this bit right. I know how important it is to have a good solicitor. This is the part of the process that can get very stressful and you need good people to help you through. I already had Sam on my side and she is one of the best at progressing sales through to completion. This is the vital work that is rarely appreciated by those selling houses until they experience it. And now I instructed Myfanwy at Furley Page. She is equally good at her job.
First things first, I needed to fill in my enquiries form. This details everything about the property and what is included in the sale. Pretty straightforward until you get to a question about Japanese Knotweed. Fine if you haven't got any at your house but I did. This is a very determined little plant and has gained a reputation in the property world as being a bit of a problem. It can sneak up inside your cavities so to speak.
But I had spent the last two years injecting it with weed killer, right down inside its wicked little stems. And it had all but been beaten. But not quite. I told Myfanwy that I didn't think it should be a problem and that maybe the buyer would take a view on it.
With accomplished patience and wisdom, she said that whilst the buyer might take a view on it, their solicitor and more importantly their mortgage provider, would almost certainly not and that I should get a proper survey and management plan in place. So, through gritted teeth, I forked out for a survey and good job I did. Because as she had predicted, the mortgage company were not mad keen on the knotweed house and having a proper plan of action in place to sort it out proved very necessary indeed. Had Myfanwy not been insistent at an early stage, this could have delayed us for weeks at the point of exchange.
The legal process, from then on, went relatively smoothly. There was a bit of question over the legal title of the property which Myfanwy sorted out and the quirky drainage arrangements were dealt with by Sam taking time to explain everything to the buyer and their solicitor.
This is the key to getting the sale over the line.
Remembering that you want to sell and they want to buy and helping each other get there as calmly as possible. That's what good, switched-on agents do for their clients. Sam organised the house survey and then a further survey looking for creepy crawlies in the loft! We dealt with a fence panel that blew down. We even agreed that the buyer could go and do a bit of mowing and hedge trimming so that it wasn't too much like a jungle when they moved in.
And finally, despite my mistakes, we got there and contracts were exchanged. I hope the buyers will be happy there.
I know for sure without the experienced help of Sarah, Sam and Myfanwy I would have made a proper pig's ear of it. An interesting reminder for me that good advice is worth paying for especially if you are listening!
And in case you are wondering – I did pay for the advice. Alex charged me commission. I told you he is running a tight ship!
Are you thinking of selling your house and would like expert advice?
I recommend you get in touch with Alex or Sarah – they'll do a great job for you.
Making the most of your property
Would you like us to send you a quick email when we publish our next article?
These will include tips and advice on how to maximise your enjoyment and return on investment from you property.