Otties Farm – New Dairy for yoghurt and cheese making
A dairy is celebrating being able to expand its business thanks to a successful planning application managed by Hobbs Parker Property Consultants.
We were very pleased to be able to help ensure this agricultural diversification was able to go ahead. We also sampled the cheese and yoghurt - they're excellent!
Three generations have worked the land at Ottinge since the turn of last century. The rolling green hills of the Elham Valley make for perfect dairy country and so the cows arrived to the pastures in the 1920s. Nine decades later and the herd continues to thrive. The course hasn't been easy over all these years, but as you might imagine, they've come to know just a thing or two about milk.
Ottinge Farm are proud of their dairy traditions, that are defined by a deep respect for the land and the utmost care for their animals. It's an honest, hard-working lifestyle that demands dedication to the Farm. But in return, they enjoy enormous pride in the welfare of their cows, the first class quality of their milk, and of course the opportunity to sustain our beautiful countryside for future generations to enjoy.
Otties is their extension of the same idea –building on that pride of traditional dairying by making great yoghurt and cheese on the farm – from their own fresh milk – the traditional way.
When Otties needed a new building to expand the dairy, they came to Hobbs Parker for our advice. After visiting the site (and sampling the excellent cheese and yoghurt) we set out the agricultural justification for the building, detailed the benefits of the farm diversification and identified policy support for the proposal at both national and local level. We collated all of this information and submitted the planning application.
Not all planning applications are straightforward, we always endeavour to maintain excellent working relationships with local authority planning officers. This is fundamental to progressing applications. The application was granted and the extension, which is a purpose-built modular building in two sections, has now been set into place.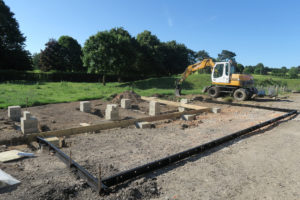 Hobbs Parker has been in business since 1850 and has a long history of working with rural landowners and farmers. Our work also encompasses residential, commercial and mixed use schemes in a variety of locations around the country.
If you require any planning advice, do not hesitate to contact one of our experienced planners. Our initial advice is always free and fine cheese readily accepted.
Otties Dairy & Farm Shop can be found at: www.otties.co.uk
Valuable advice from our Property Consultants
Would you like us to send you a quick email when we publish our next article?
We'll help you make the most of your property assets.