The 'Race for Space' and house price inflation in 2020
House prices rose at the fastest annual rate in more than four years in October 2020 according to the Halifax
The property market has surprised many this year -- a change in homeowners' aspirations and especially space is driving house price inflation in the villages and countryside in the South East.
Are rising house prices about more than just the normal supply and demand?
With so much talk of the Covid crisis, it's almost possible to forget about the numerous economic hurdles that affect house prices.
The rising cost of debt resulting from Lockdowns 1.0 and 2.0, the struggling economy, the Brexit trade deal and startling job losses — so why are so many people moving home?
House prices rose at the fastest annual rate in more than four years in October 2020 according to the Halifax.
The average price of a UK home topped £250,000 for the first time, with prices up by 7.5% compared with a year earlier. It was the strongest rate of annual growth since June 2016 says the lender.
Working from home
The pundits call it the 'Race for Space' as lockdown buyers liberated by home working seek more room inside and out.
Let's not forget the incendiary device that is Rishi Sunak's  Stamp Duty holiday adding rocket fuel to the space race as if further stimulus was necessary.
Why are home buyers not concerned with the so-called 'Coronavirus stock market crash' which began on 20 February 2020 and ended on 7 April? It was deemed the most devastating crash since the Wall Street Crash of 1929 signalling the beginning of a Covid-19 recession.
And what about rising inflation, the Consumer Prices Index 12-month inflation rate was 0.7% in September 2020, up from 0.5% in August 2020 according to the Office for National Statistics (ONS)
So are property buyers really just changing lifestyles and grabbing a discount on buying costs, or is something deeper going on when people choose bricks and mortar as their single largest financial investment in the middle of a global pandemic?
Buying power
Property purchase is mostly funded by mortgage money and not hard cash, so rarely will a property buyer weigh up the pros and cons of a safe haven such as gold against property.
We are talking about equity, the cash hidden in the bricks and mortar of your home. The sale price minus the mortgage or for many people, the sale price plus an increase in the mortgage, in other words buying power.
So is consumer demand for homes really about a strategic investment decision or just relocation, space, environment, family and recreation?
The answer is all of these but above all it's about trust
We develop our trust in bricks and mortar at an early age.
Most of us grew up with rising house prices – there were a few blips along the way maybe. I can certainly remember interest rates at 15% but my children can't. Most of us were brought up to believe in the stability of homeownership and the notion of what a wise investment it turned out to be for our parents.
Steady the ship, invest in property when everything else is at sea seems like a wise mantra and particularly so in these unprecedented times.
What do I see in my crystal ball?
So with high demand likely to continue and a shortage of stock, will house prices continue to rise?
The simple economics of supply and demand would suggest so.
In my crystal ball, house price inflation will, in all probability, slow in the short term due to seasonal adjustment, lockdown and job insecurity but otherwise, continue an upwardly mobile trend.
The headwinds are numerous including a likely double whammy in March 2021 with the end of Furlough and the demise of the Stamp Duty holiday. Pressure will surely mount on the Chancellor to amend or delay.
House prices could respond even more strongly in the event of a better than anticipated Brexit transition, an effective vaccine roll out or signs of an economic recovery.
Only time will tell but one thing is for sure, property will continue to prove to be a wise long term investment as historical house price data shows.
And then there is the local 'Netflix Effect' to come!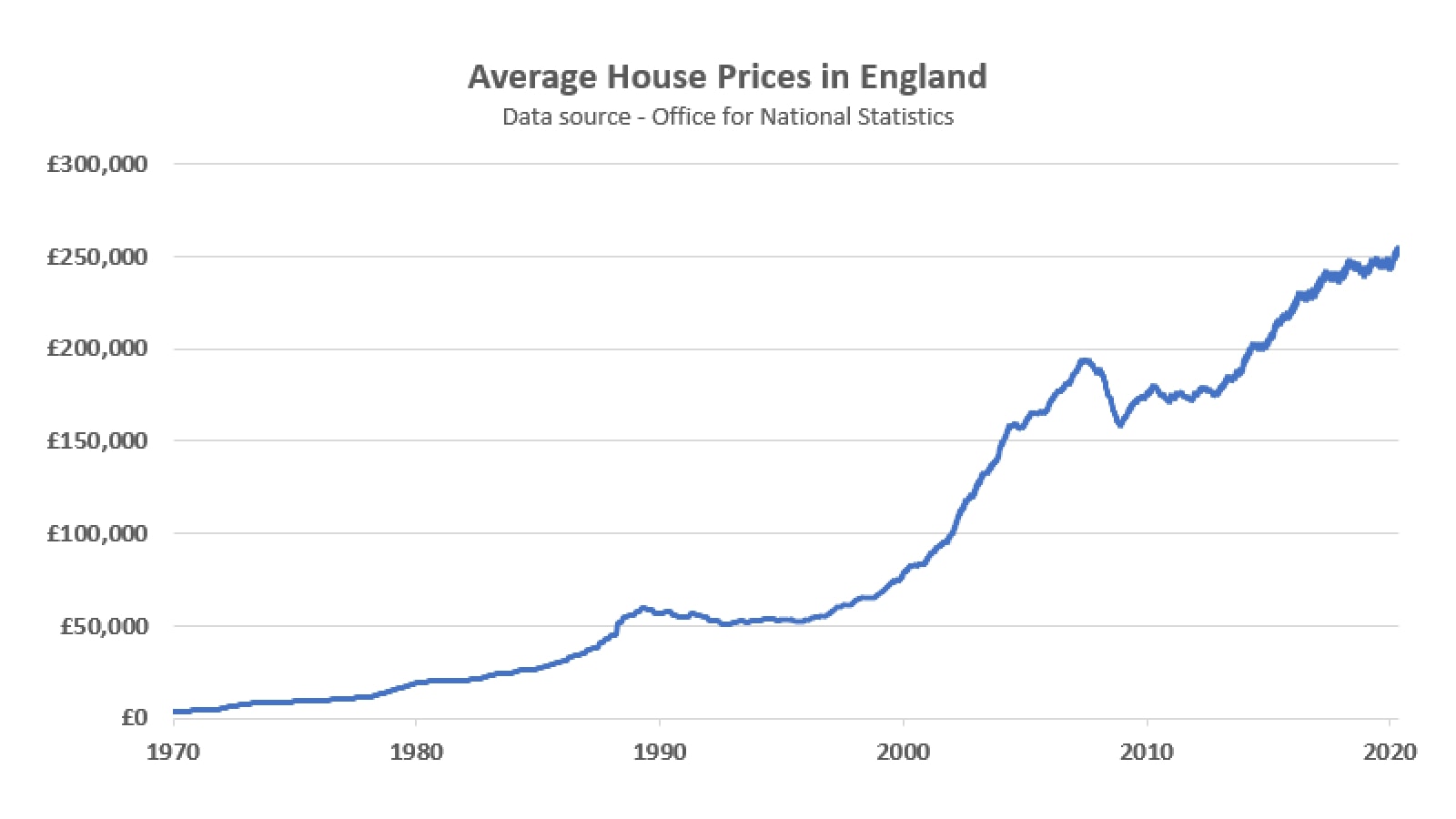 Making the most of your property
Would you like us to send you a quick email when we publish our next article?
These will include tips and advice on how maximum your enjoyment and return on investement from you property.